REAL PERSONAL POWER
Learn To Bring You To The World!
Sign up here to be on the forefront of these exciting events! This is our VIP list and will get notified of Larry's Podcast releases, Free Trainings and other great stuff to help you to start, be, or improve the Business of YOU! We would love to be part of your journey.
Larry Wilson Will Teach You To Take Control Of The Only Sure Thing In Life... You!
By improving your Communication, "You can increase your value by at least 50%"
~Warren Buffet, Billionaire~
Don't listen to us, listen to the Billionaire!
Larry Wilson
is an Emmy nominated performer, producer, writer, and 2017 Comedy Magician of the Year, who synthesized his long history in show business into a powerful training system called The Wilson Method. As a successful TV Star and Communications Expert, Larry Wilson, shares his secrets to quality & clear communication. Every week a new episode takes the listener into another level of training.
Larry Wilson has a mission: he wants to train every human who longs for a better life, more satisfying relationships, and an abundance of opportunities in
work or business. The
outcome and potential through communication is unlimited and so are the results of Larry's students!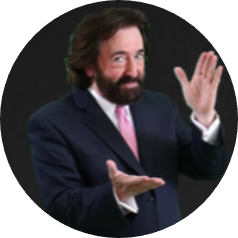 Larry Wilson
Author, Coach, Speaker, and World Famous Trainer of Hollywoods Best Kept Secrets! "How to Communicate like your Life Depends on it!"
You will get behind-the-scenes tactics, stories, tips, and tecniques to enhance your Communication Skills!
Change Your Communication and Take Control Of Your Life!
If you keep doing the same thing you have been doing NOTHING will change.

If you want a new and predictable Future change your present communication skills to better skills.
Join Larry's VIP club, get access to the podcasts then learn Larry's techniques and Much More...